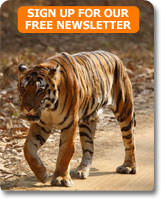 Bengal Tiger
© M Eldridge
(top) Asian Elephants
© K Barnes
Preview our books for great holiday ideas!



Wildlife of Northern & Central India




Wildlife of Western Rajasthan and Gujarat - India


Welcome to Wild About Travel
Wildlife watching tours - bird watching holidays - culture tours for independent travellers and groups
July 2015 and we are celebrating 10 years in business and what a great 10 years it has been! We are very much looking forward to what the next 10 years have in store. West and South India remain popular destinations See this trip report for a species list and some great photos taken in South India. Reports have also been posted on North East India and The Punjab, Rajasthan and Gujarat. And we have had much success in Ecuador too - read all about a month-long holiday to the Andes Northwest and East Slopes plus the Amazon
There have been numerous sightings of Tiger and several of Sloth Bear, Leopard and even Tree Shrews! In Gujarat we have had great success seeing many of the range-restricted bird species including Great Indian Bustard and good views of Striped Hyena and Indian Grey Wolf. We hope you'll

which is the latest one (December 2013) and feel free to copy it to friends.
We've got lots of exciting itineraries including a repeat of Lions, Tigers and Wolves of Central and West India small group tour to run in November/December 2015 and Snow Leopards in Ladakh in Feb/March 2016 - see our small group tours page for more options. Participants on our last Snow Leopard tour encounters 6 Snow Leopards and 2 Lynx as well as several other mammals and some great birds. To register your interest please click

and we'll send you the full information.
Please also take a look at these lovely video clips, all three taken by Jacquie Bridges, of male Asiatic Lion in Gir National Park (January 2012) http://www.youtube.com/watch?v=1lef5sqUiPA and of a female Tigress http://youtu.be/f4J8JQ80lYM and three 15 month old cubs http://youtu.be/qPm9GylJOT0 both in Bandhavgarh (February 2013). We have plenty of ideas for anyone wishing to travel with family and friends independently.
Wild About Travel organises bird watching tours, wildlife holidays and cultural tours to India, Ecuador, Panama, Spain and Sri Lanka, for individuals, couples and groups. Please ask us about Trinidad and Tobago too.
We offer a wide range of tours to suit your budget and we can create tailor-made tours to some destinations.
Choose to travel with us and experience that special service and attention to detail which is difficult to find these days. You have our personal assurance that we will do our very best to match the holiday you are looking for to your budget and expectations.
Wild About Travel can help you find and book your ideal tour. We will be delighted to assist, whether you are looking for a tiger safari in India, or a tour in search of endemic birds in Ecuador including the Amazon, if you want to watch oilbirds at ASA Wright Nature Centre and egg-laying turtles on one of Trinidad and Tobago's beaches, or trek in Bhutan for bird watching, general wildlife and culture.
Whatever your individual desires and requirements, call us or

and we will be happy to advise. You may wish to travel as part of an organised small group or independently with transport and drivers, guides and accommodation all booked for you in advance. The great news is that we can arrange both.
For more information select one of the destinations from the left menu, choose your area of interest from bird watching, mammals or culture and view some sample itineraries. If what you are looking for is not there, please do email us or call +44 (0)1480 370593 for a no-obligation quote and further details. We look forward to hearing from you.


Helping you design and book a unique and affordable wildlife, birdwatching or cultural holiday